3-22-17
Dear Solana Vista Families,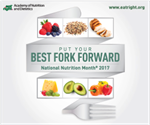 Solana Vista Celebrates Nutrition! Thank you to Mr. Cain and Miss S for planning a variety of activities this week to encourage student and staff participation in our Nutrition Week. Activities include learning Best Bones Forever Dance, participating in the Daily Nutrition Challenge, taking part in a Taste Test at lunch and more! We would love for you to join the celebration and raise your child's awareness of the importance of nutrition at home...
Fun Ways to Celebrate Solana Vista's Nutrition Week at Home
Start by reading our Harvest of the Month newsletter English/Spanish! It has recipe ideas
and fun facts based on the featured produce item for the month. The Harvest of the Month item for March is peas and is featured on the menu twice during the month.
Did you know? A ½ cup of peas (fresh or cooked) is an excellent source of vitamin K. This vitamin helps stop cuts and scrapes from bleeding too much and starts the healing process. Peas are also a good source of fiber, vitamin C, vitamin A, folate, and thiamin.
Try a new recipe!
◦ After-School Snack Energy Bars are nutritious and easy to make!
Activity Sheets & Games for you and your children
◦ Online Interactive Games to make nutrition fun!
A few reminders:
March 20 – 24: Solana Vista Nutrition Week
April 3 – 7: Abilities Awareness Week
April 10 - 14: Spring Break
May 4: SBSD Beach Bash - Check out the website for exciting updates about the event!
A little something to think about: Digital Citizenship
Digital Citizenship is an important topic of discussion for all ages. Before you know it, your child will want to be exploring the world of social media. Educate yourself now on how you can be involved and aware as your child becomes exposed to this virtual world. Thank you to Mrs. Wolf for providing these resources for our parents.
A reminder about the updated SBSD Mobile Device Policy:
While we do not discourage students from bringing mobile devices (including cell phones, watches, Kindles, etc.) to school, these devices may not be used during school hours, unless their class has arranged to have a special technology day or if the teacher has given permission for a student to bring his/her Kindle device to read in the class. All mobile devices should be turned off when students come on campus in the morning and remain in their zipped backpack during the school day. These devices may only be used once students have left the campus. If a personal item, including a mobile device, is lost, broken or stolen, the District will not be responsible for replacing the item.
Katie Zimmer
Principal, Solana Vista School
---